Court Reporting and so much more...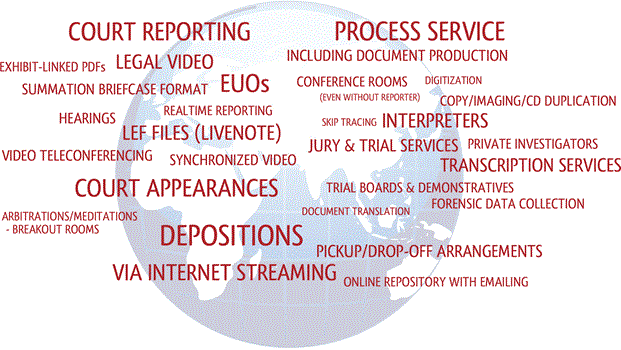 Special Services
​
With more than 75 years of combined experience at work for you, EcoScribe can often provide assistance with services not listed. Think of us as your "Legal Logistics" provider. We're more than willing to find a solution that will fit your need, solve your problem, or just make your day a little easier. Give us a call!
Court Reporting

Legal Videography

Court Appearances

Hearings & Motions

Web Streaming Examinations

Realtime Reporting

Process Service

Court Filing

Skip Tracing

Investigative Services

Transcription Services

Reprographics & Imaging

Trial Boards & Demonstratives

Arbitrations & Mediations

Other Litigation Support Services

Appellate Printing
Our Team Difference
​
Across the street or around the globe we provide highly skilled court reporters with the experience and professionalism to accurately transcribe any proceeding. With expertise in legal matters of all shapes and sizes, we've got you covered. From personal injury or medical malpractice, to patent or intellectual property disputes, our reporters are the best in the business.
Our strength is in the meticulous management of the details. Standing production orders and case project managers ensure accuracy and consistency, regardless where your case leads you.
Strategic partnerships with some of the biggest names in printing and fulfillment mean local, responsive service...anywhere in the world, 24 hours a day.
Sophisticated, easy-to-use technology for service requests, to view or dowloand transcripts, exhibits & video, and virtual witness examinations over the web all translate to greater efficiency and a better customer experience.